Description
Steam Iron Garment Steamer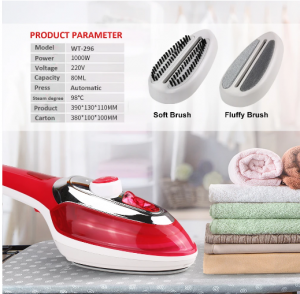 Electric iron steam brush iron on the basis of traditional updated, an increase of more than functional, modern life is a good helper in each household Clothes hanger directly through continuous spray directly eliminate wrinkles quickly. Clothing on the table with the ironing board by a strong spray eliminate the fold. Brush through the body quickly wipe continuous spray directly polluted soil, etc.
*Easy to fill with ordinary tap water. * 7.5 foot long power cord. * Safe for delicate fabrics. * Designed to fit inside any suitcase. * Transparent plastic window shows water level. * Warms up quickly for fast use. * Steams in less than 3 minutes. * Large steam vents provide a powerful flow of steam. * Light, compact and easy to store. * Perfect for travel when garments become wrinkled in suitcases. * Handheld steamer for garments, Travel, Fabric, upholstery and embroidery. The Product os small size,and convenient to carry,Meanwhile,it has multiple functions such as ironing ,removing pieces of attached thread and wool and dry washing etc, It would be a necessity for modern families and sightseeing trip.
Remove wrinkles, creases and odor from garments multipurpose handheld steamer for removing wrinkles, creases & odor from garments.

Steam 0.2-0.4g/time.Tough enough for linens, safe enough for silk. Safe to use on different types of materials & fabrics.

Capacity : 70ml, Lightweight, hand held steamer heats up in seconds for a quick & convenient use.

Power :650W, 800W No more burning or damaging fabrics with heavy, unwieldy irons. Compact & portable, great for travel.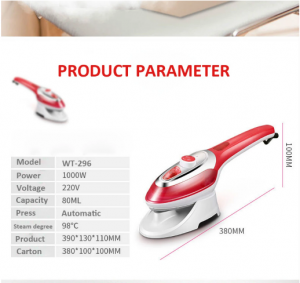 Steam Iron Garment Steamer Features
1. Ceramic floor, multi-range thermostat, keep temperature automatically and anti-dry  
2. Soft steam and explosion steam can be adjusted
3. Waterproof thermostat knob and waterproof comfort handle
4. Flat iron and garment steamer function
5. Not only can ironing, dry cleaning, sterilization mites, but also used as cleaning machine (to clean carpets, sofas, floor tiles, smoke machines and others)

 

 
  Description
Multi function Handheld Electric Steam Iron
Bursting steam
Adjustable temperature
Vertical hanging ironing
Specification
Voltage: 220V, 110V
Frequency: 50HZ 
Power: 1000W