Description
Manual Juice Press Juicer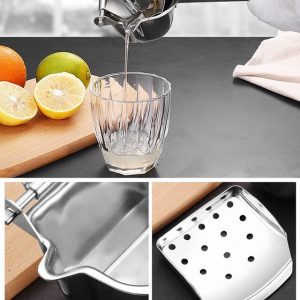 PROFESSIONAL LEMON SQUEEZER — Vitamin C is essential for us. How to quickly get Vitamin C? Using this manual fruit juicer, gets the maximum amount of juice from lemons, limes, oranges, grapefruits and others.

ERGONOMIC DESIGN — Heavy duty lemon squeezer has alloy body and ergonomic handle. V-shaped filter, easy to pour juice. Your hands will never run out of effort when using our strong lemon orange juicer.

HEALTH & EASY TO USE — No Foam after squeezing fruits! It's better than the electric squeezing machine! Placing the half of the fruit into the container which is with the holes, then squeeze, the juice will come out from the lemon squeezer.

PREMIUM LEMON JUICER — Made from high end aluminum alloy which gives it a long life. The premium quality of lemon lime squeezer makes sure that the handle doesn't bend when squeezing lemons.

EASY TO CLEAN — Rinse with running water for 3 minutes, wipes clean with soft towel, it must be hand wash to keep it shine.
Product details of Manual Juice Press Stainless Steel Manual Citrus Fruits Lemon Squeezer & Orange Juicer Kitchen Tools
This juicer is made from Stainless Steel Alloy Material for durability, and better corrosion resistance.
Whether you'd like to wake up each morning to fresh-squeezed juice, give a cocktail some fresh, natural flavor, or even use the juice to tenderize fish or poultry, you can do it all in more in comfort and safety with the ImPress manual fruit juicer.
Easy to clean all of it's parts with hands, no smell, convenient to use again next time.
The bottom foot design makes the juicer stable when placed on the table, with anti slip feature.
No screw of the orange juice squeezer, which makes it easy for adjustment and cleaning. Both of the filter and the reservoir are detachable for easy cleanup. All of the components won't break or bend.