Description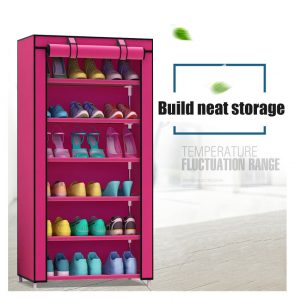 Introducing the Shoe Rack with Fabric Cover, a game-changer in shoe organization, brought to you by Nano Smart Store. Say goodbye to cluttered entryways and hello to a stylish and efficient solution for storing your beloved shoe collection.
With our Shoe Rack with Fabric Cover, you can finally bid farewell to the days of searching for a matching pair of shoes amidst the chaos. This innovative storage solution offers not only ample space for your footwear but also a sleek and modern design that seamlessly blends with any home decor.
The key feature of this shoe rack is its fabric cover, which not only adds a touch of elegance but also serves a practical purpose. The cover protects your shoes from dust, dirt, and other elements, keeping them in pristine condition and ready to wear at a moment's notice. No more worrying about scuffs or damage – your shoes will always be in top-notch shape.
Designed with functionality in mind, the Shoe Rack with Fabric Cover offers multiple tiers, providing ample storage space for all your shoes. From sneakers and heels to flats and sandals, every pair finds its designated spot, making it a breeze to find the perfect footwear for any occasion.
Assembly is a breeze with our easy-to-follow instructions. Within minutes, you'll have your shoe rack ready to use, and thanks to its lightweight and portable design, you can effortlessly move it to any desired location. Whether it's your entryway, bedroom, or closet, this shoe rack adapts to your needs.
But it's not just about organization – the Shoe Rack with Fabric Cover also adds a touch of style to your space. The fabric cover comes in a range of trendy colors and patterns, allowing you to choose the one that best complements your personal style and decor. Transform your shoe storage into a chic and eye-catching display.
Experience the convenience, elegance, and organization of the Shoe Rack with Fabric Cover from Nano Smart Store. Embrace a clutter-free lifestyle and make a statement with your shoe collection. Order now and elevate your shoe organization game to new heights.
Step into a world of organized bliss today!