Description
Usb Ultrasonic Humidifier Aroma Essential Oil Diffuser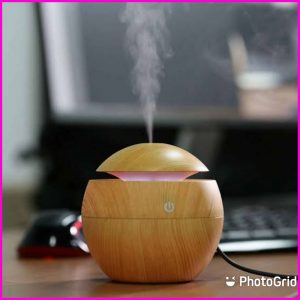 Uses ultrasonic waves technology to vaporize the blend of water-soluble essential oils and water into the air, producing cool mist with fragrance to give you a comfortable environment.It features super modern wood grain looking similar to a beautiful flower-vase, which will go with any decor perfectly, like a decorative piece, ideal for office, spa, salon, Yoga studio, child's room, physical therapy studios and any room you want aromatherapy.
Enough capacity and great mist output. The ultrasonic essential diffuser holds 130ml; of water in the tank to provide enough humidify area.
Furthermore, it can produce cool mist 40ml per hour with low or high misting modes to freshen the air in your room.
Use it on a desk or bedroom nightstand as a night light.More Versatile. Adding several drops of pure essential oils into it, it will fill your space with lovely fragrance as a diffuser. Without oils, it can help your moisturize the air, great for your dry skin, like a small humidifier.
Why you need this small USB Ultrasonic Humidifier?
Make your home smell wonderful.Prevent dry and chapped skin in dry winter months.Humidify the air, breathe easier, and relieve cough and sinus congestion due to colds, allergies, and flu. Reduce odors in your house from cigarettes, cooking, and pets.Portable for Home, Yoga, Office, Spa, Bedroom, Baby Room. Perfect gift idea for family and friends who love aromatherapy or can benefit from Aromatherapy healing.
Specification:
Type: Ultrasonic Diffuser Humidifier
Material: ABS + PP
Quantity: 1pcs

Color: Light wood color/ Dark wood color
Mode: Press power button for continuous Working
LED Colors: Blue
Humidifier Capacity: 130ml
Spray Volume: ≥ 30ml/hour
Adaptive Area: 20-30 Square Meters
Plug Type: USB
Frequency: 50/60Hz
Power: < 2W
Item Size: 95*100mm
Net Weight: 0.145kg / 5.1oz