Description
Nano Facial Steamer
The Nano Facial Steamer Hot mist steaming face beauty instrument: double moisturizing, double moisturizing, high moisturizing degree than mask, pure physical hydrating, refreshing and not allergic Negative ion nourishing: It can improve skin micro-circulation and tissue nutrition, effectively remove free radicals, accelerate epithelial regeneration and dilute melanin.
Buy Nano Facial Steamer in Abuja Lagos Nigeria now

Gentle spray: using special PTC ceramic heating sheet, the thermal efficiency conversion is faster, the temperature is anti-overheating Anti-scalding temperature control technology: temperature control, no burns, no damage to the skin, lack of water and power protection, safe and reliable, constant temperature fog, fixed temperature.
Nano ionic steam can penetrate into skin and replenish the face missing moisture effectively, make skin more tender, moist and elastic. Skin Rejuvenation
Buy Nano Facial Steamer in Abuja Lagos Nigeria
Moisturizing.
Effectively open pores and unclog hair follicles, allows you to remove dirt, oil and aged cutting from your skin.
Can promote the facial blood circulation and skin metabolism, send the nutrients to the underlying skin through the tiny blood vessels, improve skin nutritional absorbency and delay skin aging.
UV light inside the facial steamer, which kills any bacteria so that it reaches your skin in its purest, most effective condition.
A large 70ml water tank allows 12 minutes of working time, replenishment more thoroughly.
Equipped with a dust-proof cover, can prevent dust, foreign bodies, bacteria enter into the inside of face steamer, hygienic and healthy.
Helps relieve eye bags, dark circles & wrinkles.Warning about your skin:
Initially, the appliance should only be used once a day, each time use can't exceed 10 minutes. For normal skin, a maximum of 2 to 3 times a week, and for sensitive skin, once per week is preferred.
Stop using the appliance if skin troubles occur while using it.
Basic skin care is required after using the appliance. Not perform skin care after using it may cause the moisture in your skin to evaporate easily, leave your skin dry.Note:
Use distilled water or purified water only, failure to do so may result in the appliance malfunction and shorten its service life.
Don't tilt, shake or move the appliance during use or within 10 minutes after use. Because this may cause hot water to spill out or a large amount of steam to be emitted from the steam outlet, so as to avoid scalding.
Keep the appliance out of reach of children.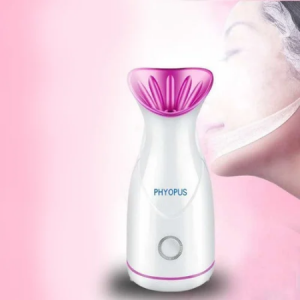 Nano Facial Steamer Key Features
Easy to use
Power 280w
Water tank capacity 65ml
Frequency 50/60Hz
Keep out of reach for children
What's in the box
Dust proof cover
User manual
Facial steamer
Specifications
SKU

: PH037ST1IYECXNAFAMZ

Certifications

: Eco Friendly

Color

: N/A

Main Material

: Plastic

Model

: N/A

Production Country

: China

Product Line

: Bethel page

Weight (kg)

: 0.35