Description
HD Night Vision Googles
HD Night Vision Googles  Wrap Around Glasses Reduces driving glare and eye strain. It lets you see with enhanced color and clarity just like high definition TV's and at the fraction of a price of designer glasses. Protect your eyes in style from all sides, just slide on this prescription glasses. Whether driving, reading or golfing, these versatile glasses make seeing a whole new experience.
Advantages:
The HD Vision technology will deliver a clear and safe view. Protects from UV rays. The Same technology used by the HD TV. Liviana and durable.    Modern European style.The Economic solution for people who wear glasses and do not want to spend on expensive visits to the eye doctor.Better quality caps for the lenses, and also block light side.Only HD Vision technology gives you clarity.    The Lenses prevent glare and give you comfort.A European unique design will make you look great!    Lenses night version, help you drive without the glare of lights that cause the cars coming in the opposite direction.    HD Vision you see the world with different eyes.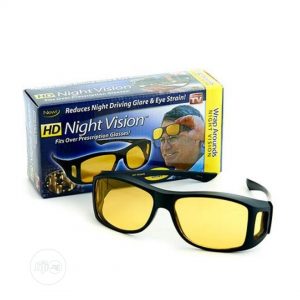 Many people hate driving at night, the dazzled especially by modern Xenon or LED headlights in the dark of night. The night vision glasses make night driving much easier by brightening everything with a yellow hue and decreasing the glare from oncoming headlights.
You can see clearly see people when they're crossing the street. You can clearly see the lines on the street, which means you stay safely in your lane. night vision glasses give you more of a safe feeling for you .
✅ NIGHT DRIVING GLASSES ARE NECESSARY FOR THE DRIVER – Driving at night, complicated lighting, blurred vision, which will affect the driver's normal travel, night driving glasses can reduce the damage of light to the eyes, reducing the risk of driving at night.
✅ All NIGHT NIGHT DRIVING GLASSES ARE POLARIZED – The night vision glasses make night driving much easier by brightening everything with a yellow hue.
✅ WIDE-FIELD YELLOW GLASSES – Classic aviator design for maximum the wide-field yellow lenses, which will keep eyesight more broad than the narrow lenses. The anti-glare polarized yellow lenses provide greater clarity in fog, haze, dark and other low-light conditions,reducing contrast from bright blue / white glares & flashes which will improve your nighttime drive performance and reduce eyes fatigue.
✅ ALUMINUM MAGNESIUM METAL ALLOY – make frame Strong and light.The sunglasses only 20g, You can hardly feel them on your face, but they are unbreakable. Best for Motorcycle.And Cycling Bicycle, Driving, Running, Fishing,Racing, Skiing and Climbing, Trekking Or Other Outdoor Activities Enthusiasts.