Description
Magic silicone sponge Gloves Reusable for Kitchen, Bathroom Cleaning, Pet Hair Care, Car Washing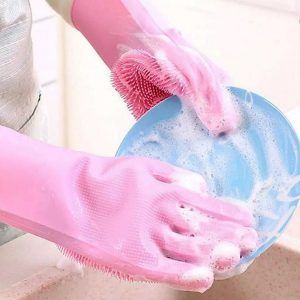 Are you tired of low-quality latex gloves that have poor insulation?
Are you tired of constantly going through sponge purchases and having to replace them all the time?
We've combined sturdy reusable and dishwasher safe rubber silicone into a glove with built-in scrubbing pads.
The silicone rubber bristles scour away dirt, stains, smells and grease quickly and easily, while still letting you hold all sorts of pots, pans, and bakeware.
Choose your favorite color or the color that matches your kitchen
Each color is made from food-grade silicone and is hypoallergenic for people with latex allergies or sensitivities.
Each glove has a hanging loop for wall mounted storage in between uses.
Pet Grooming
Many people choose these gloves to help groom pets while reducing shedding and providing a wonderful massage for your furry friend.
The silicone bristles naturally catch loose hairs without yanking or pulling healthy fur.
Heat Resistant
Hot water can quickly dry out or damage people's skin.
About this Magic silicone sponge Gloves
Pull On closure

【Multifunctional Silicone Gloves】: This cleaning gloves can be used for washing dishes, fruit & vegetable cleaning, cleaning the bathroom, bed room, care for pet hair, and washing the car. MOLECOLE – YOUR BEST CHOICE

【Dense & Soft Brush】: Use silicone brush to replace your old style brush. Dense brush can help to create more foam, also can help to increase friction force, take magic gloves to clean anywhere with ease. And with soft brush, you don't need to worry damaging something you wash.

【Durable and thick】: Our silicon dish scrubber is made of thicker, more durable silicone to prevent tearing, so it's long-lasting yet still flexible. Magic silicone glove's hook design can be hung in any position for convenient use next time

【Food Standard Cleaning Gloves】: This magic rubber silicone dish washing gloves BPA-Free, Speedy natural drying, No Bacteria, No Deformation, No Residue, also are allowed to be washed by dishwasher. No more stinky bacteria-laden sponges needed in your life!