Description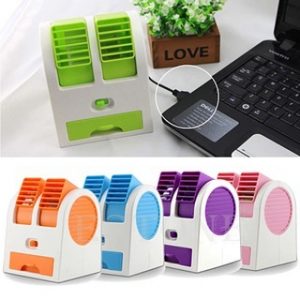 portable air conditioner is revolutionary evaporative cooling fan is the closest thing to a hand held mini air conditioner! Use it outdoors or keep it indoors as a desk fan. Provides gentle cool breeze. Uses evaporative cooling technology.
Add water to soak the cooling filter. Ambient air is forced through the wet cooling filter and cools down. Works best in dry and hot climates. Fully portable and mobile, take it literally anywhere you want. Rotatable turbine wheel allows adjustment of the cool breeze of air. Humidifies air – makes breathing comfortable and alleviates allergies.
portable air conditioner
Stands by itself on any flat surface.

Use the water evaporative technology, keep you cool anytime Blows a cool breeze on you where ever you go.Insert batteries or connect USB Cable 90 degree vertical airflow control for optimal wind blowing. Can be used at just about any angle when held by hand. Blowing speed adjusted by the on/ off switch; Flat bottom surfaces turns it into a desk fan easily;
portable air conditioner
With a wrist strap for easy carry. Great for refreshment when you are out, such as camping, picnicking and so on; Portable, good versatility & Easy to Use. Power supply: 3 x AA batteries(not included) or USB port or Battery bank/Power bank