Description
Mini Popcorn Maker
This fully-functional vintage-style popcorn machine allows anyone to make fresh popcorn for their family, friends, or co-workers. It's perfect for parties, office events, and more! Kids love it, adults love it!…. It's easy to use, simply add a scoop of kernels into the hopper, then switch on the machine. No oil or fat is necessary, meaning the result is fat-free and healthy and perfect for people watching their calories or on a diet. Delicious fluffy popcorn will be ready in minutes, that you can then season however you want.
Healthy HOT AIR popper, no oil, oven, microwave involved.
Mini Popcorn Maker is Designed for all regular and premium brands of popcorn kernel.
Let your kids have fun popping pop corn and add their own flavour at the end when the pop corns comes out.
You only need a electrical outlet, a cup of kernel (easily bought/found in NTUC, giant etc.) and favouring which is to be added after popping the corn.
Mini Popcorn Maker
1. Add kernel into the pop corn machine.
2. Do not pour any flavouring/water into the machine.
3. Switch on the pop corn machine.
4. Place a bowl near the pop corn machine outlet.
5. Wait for pop corn to come out.

6. Add flavouring to the popcorn by mixing it. i.e. (Salt, Melted butter, Garlic Herb etc…)
Hot air popping provides a healthy snack
Enjoy the taste of movie style popcorn at home
Fast and easy one switch operation
Ready in minutes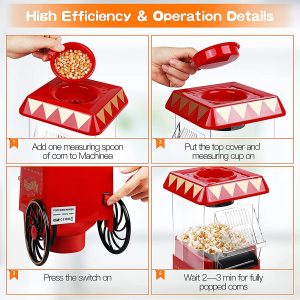 Enjoy the fresh air popped snack at any time
Fast and easy one switch operation, ready in minutes. The upper cover can be used as a convenient bowl. Fun to watch, easy to use and to clean